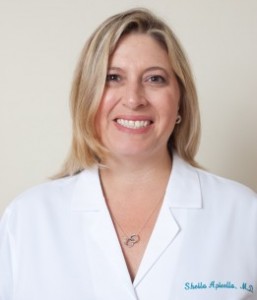 Dr. Sheila Apicella received her undergraduate degree at Barnard College in New York City. She then earned her medical degree from New York University School of Medicine. After a pre-residency fellowship in Otolaryngology-Head and Neck Surgery at St. Luke's/Roosevelt Hospital in New York, Dr. Apicella continued her post-graduate training at SUNY-Stony Brook. She completed her residency at the University of Pittsburgh Eye and Ear Institute (recently ranked one of the top five programs in the country by U.S. News & World Report magazine).
Board certified in Otolaryngology-Head and Neck Surgery, Dr. Apicella focuses on minimally invasive endoscopic sinus surgery, management of sinus disease, head and neck surgery, sleep-disordered breathing, diseases of the ear and pediatric otolaryngology. She is an Assistant Attending physician at several New York City hospitals including Beth Israel Medical Center. She is also an Associate Attending at St. Barnabas Hospital in the Bronx where she is involved in the education of students and residents.
Dr. Apicella is a member of the American Academy of Otolaryngology-Head and Neck Surgery, The American Medical Association, and the Bronx County Medical Society. She has been repeatedly recognized in the Guide to America's Top Physicians in the New York Metro area.