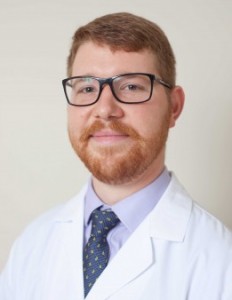 Dr. Scott Yerdon graduated from Syracuse University with a Bachelor of Science in Communication Sciences and Disorders. He went on to earn a Master of Science (M.S.) in Audiology and a Doctorate of Audiology (Au.D.) from Gallaudet University in Washington, D.C.
Dr. Yerdon completed doctoral internships in an audiology practice in northern Virginia and the The River School, a model program serving children with hearing loss in the Washington, D.C. metropolitan area. He finished his training with his residency at Columbia University Medical Center in 2012.
Before starting at New York Otolaryngology, Dr. Yerdon worked at several neighborhood medical centers throughout Brooklyn and Queens performing diagnostic testing and dispensing hearing aids with adult populations.
Dr. Yerdon's clinical experience includes performing complete audiological evaluations, hearing aid dispensing and evaluation, and comprehensive aural rehabilitation. Dr. Yerdon is a licensed Audiologist and Hearing Aid Dispenser in the State of New York.