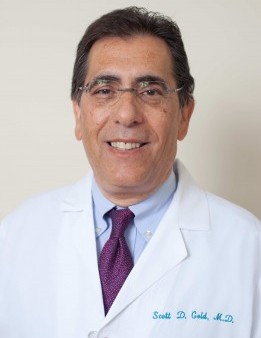 Dr. Gold received his M.D. degree from Mount Sinai School of Medicine in New York, where he is currently an Assistant Clinical Professor of Otolaryngology. He completed his residency training in General Surgery and Otolaryngology at Mount Sinai Medical Center. Dr. Gold was formerly Chief of Otolaryngology at Beth Israel Medical Center, North Division.
Dr. Gold has been recognized numerous times by New York magazine and Castle Connelly Medical LTD as one of the New York area's leading otolaryngologists and sinus specialists. He is board certified by the American Board of Otolaryngology, Head and Neck Surgery.
An active lecturer, Dr. Gold has presented before many prestigious medical bodies. He has organized and taught at several postgraduate endoscopic sinus surgery courses for Otolaryngologists. He is a member of the American Medical Association, the New York Medical Society, the American Rhinological Society and The American Academy of Otolaryngology-Head and Neck Surgery.